Vienna in winter is the perfect place to be during a magical season. One of Europe's most beautiful cities, the Austrian capital sparkles and shines through the cold winter months.
Discover the best things to do in historic, romantic, and vibrant Vienna despite, or rather, because of winter.
Ready? Let's go!
Vienna Christmas Markets
Vienna traces its festive season celebration to December 1296, when Albrecht I decreed the first Krippenmarkt.
Over 725 years later, the Weihnachtsmärkte is an essential experience of this UNESCO World Heritage Site and the World's Most Livable City 2018, 2019, and 2022.
Christmas villages typically open in in early winter, i.e., late November until late December. Some run until the end of the year, while others remain open through the first week of January.
Visit three of the best Christmas markets below. Then add more magical markets as your schedule allows.
Viennese Christmas Market on City Hall Square
Rathausplatz
1010 Wien
Live the Viennese dream at Wiener Christkindlmarket in front of the Rathaus. This gorgeous 19th-century neo-Gothic building creates an unparalleled backdrop for this premier market.
Stroll under the illuminated entrance arch facing the front of City Hall. Snap your photo with the city's official and largest Christmas tree.
Riding the classic two-tiered carousel and outdoor skating at Vienna Ice World in the square highlight this perennially packed market.
Speaking of Rathaus: On certain weekdays, free guided tours with a German-language guide are available through the town hall. Audio guides in English and other languages are also available and free. Inquire at the City Information office on the ground floor.
Christmas Market on St. Stephen's Square
Stephansplatz
1010 Wien
Celebrate in the splendid surroundings of St. Stephen's Gothic cathedral, enduring symbol of the city and the nation.
Elegant stalls entice with sacred and secular gifts of high caliber, including hand-crafted Christmas ornaments, from throughout Austria.
Old Viennese Christmas Market on Freyung
Freyung
1010 Wien
Dating from 1772, the quiet and cozy Wiener Christkindlmarkt provides an intimate option to the bustle of bigger Christmas villages.
Along with craft and culinary stalls of this traditional Christmas market, a farmers market sells fresh local and regional favorites.
A special aspect is the street-facing Nativity panel, 150 feet (46 m) long. The must-see scene encloses the outer boundary. Its sweet storytelling charms market-goers and passers-by alike.
Arts and Architecture

Vienna's palaces and museums are among the best places to explore Austria's imperial splendors in winter.
Hofburg Palace
Heldenplatz
1010 Wien
The Hofburg reigns supreme firstly as the ultimate seat of imperial power then, and lastly of the Austrian federal government now.
From the original 13th-century fortified castle through centuries of architectural expansion, the Hapsburg government administered the Holy Roman Empire and the Empire of Austria here.
In wintertime, the imperial family resided here in sovereign splendor.
How appropriate, then, that the Hofburg ranks among the popular things to do in winter.
The massive complex encompasses not only the following highlights, but also much more:
Imperial Apartments with Sisi Museum
Michaelerplatz
1010 Wien
Learn about imperial life, luxury, and lavishness with a tour of the Kaiserappartements.
This is majesty at the highest level, both in the sumptuous public places and also behind the scenes.
Tour the opulent staterooms, dining room, and private spaces of Emperor Franz Joseph, his Empress Elisabeth "Sisi", and Empress Maria Theresa.
See Sisi's own exercise room, installed at her express request and used daily.
Imperial artifacts, attire, artwork, and accoutrements make these legendary lives come alive at court.
Imperial Treasury
Hofburg, Schweizerhof
1010 Wien
The Kaiserliche Schatzkammer Wien holds the priceless Austrian Crown Jewels.
Secular splendors and sacred items, significantly the reputed albeit disputed Holy Grail, additionally round out the collection.
Spanish Riding School
Michaelerplatz 1
1010 Wien
Honored by UNESCO for Intangible Cultural Heritage, the Spanische Hofreitschule is home to the world's oldest riding school since 1572.
Wondrous white Lipizzan stallions and their riders present precise dressage performances in the palatial Winter Riding School.
Austrian National Library
Josefsplatz 1
1010 Vienna
Europe's largest Baroque library, the Österreichische Nationalbibliothek contains over 200,000+ volumes.
The sublime State Hall and Library gleam after careful cleaning and restoration work in 2022.
The Library also includes rotating exhibits and permanent museum collections in the Literature, Globe, Papyrus, and Esperanto Museums, plus the House of Austrian History.
Schönbrunn Palace
Schönbrunner Schloss-strasse 47
1130 Wien
In summertime, Hapsburg rulers resided at Schloss Schönbrunn. Its allure in the warmer months is irresistible.
But regal enchantment continues equally through the colder months of winter.
A UNESCO World Heritage Site, the Rococo palace and Baroque gardens are inseparable for Outstanding Universal Value. UNESCO describes the two together as "Gesamtkunstwek, a masterly fusion of many art forms."
Schönbrunn offers a Winter Pass from early November to late March. The value priced ticket bundles the Grand Tour together with three other top attractions:
Grand Tour with private apartments of Emperor Franz Joseph, Empress Elisabeth "Sisi", and Empress Maria Theresa.
World's oldest zoo
Desert House
Palm House
Preserving centuries of imperial heritage intact, Schönbrunn is a must for both first time visitors and long time residents alike.
Belvedere Palace
Prinz-Eugen-Strasse 27
1030 Wien
Another magnificent Baroque landmark, Schloss Belvedere gains global renown for the world's largest Gustav Klimt collection.
The complex covers not one but two separate palaces: Upper Belvedere and Lower Belvedere. Plus the Orangery, Palace Stables, and gardens.
While The Kiss draws the crowds to the second floor of Upper Belvedere, take a self-guided walking tour of the entire grounds. So you will see many masterworks from the Medieval Ages to Viennese Modernism of the 20th century.
The gardens feature terraced levels of loveliness all year round. Fresh blooms and flowing fountains of warm weather yield to a different beauty in cold weather.
On a winter trip, graceful statuary and elegant shrubbery draw the eyes.
In the festive season, a merry Christmas village Weihnachtsdorf Schloss Belvedere sets up in front of the Upper Belvedere exterior.
Art History and Natural History Museums
Maria-Theresien-Platz
1010 Vienna
Flanking Empress Maria Theresa's monument, the Kunsthistorisches Museum Wien and Naturhistoriches Museum almost identically mirror each other.
However, the Art History and the Natural History Museums differ in scope and focus.
The Kunsthistorisches Museum encompasses Greek and Roman antiquities through Renaissance to early 20th century masterworks. Ancient Egyptian and Near Eastern Collection are impressive, too.
Its Café-Restaurant serves delicious bites and beverages in the circular Dome Hall, a spectacular setting.
The Naturhistorisches Museum Wien is "dedicated to the kingdom of nature and its explorations."
Fossils, minerals, meteorites, anthropologists, and scientists fill the remarkable research museum.
The Venus von Willendorf dates from the Paleolithic era. She may be tiny in size at 4.3 inches (11.1cm). Nonetheless, she is mighty in stature and star power.
If you seek a special setting for a photo, then both museums afford that opportunity with their marble Grand Staircases.
Museums Quartier
Museumsplatz 1
1070 Wien
Vienna's past, present, and future meet in the MuseumsQuartier Wien (MQ) contemporary cultural district.
Opened in 2001, MQ transformed the once imperial court stables into a worldwide cultural phenomenon.
Major institutions, smaller exhibition centers, and studios galore comprise MQ's dynamic diversity. Music, theater, dance, fashion, photography, street art, children's art, and artists in residence flourish here.
Cafés and restaurants welcome art lovers, festival goers, and scene makers who flock to this exciting area.
Performing Arts

Vienna is a veritable heaven on earth for performing-arts aficionados, especially classical music lovers.
Famous composers such as Mozart, Schubert Beethoven, Chopin, Wagner, Brahms, Mahler, and Strauss lived, worshipped, created, and conducted here.
Johan Strauss II, the Waltz King, wrote indelible music for the Viennese waltz. Indeed, his greatest hit The Blue Danube is forever associated with the dance, and with the city itself.
Debuted in 1931, Strauss the Younger's gilded bronze statue in Stadtpark is the most photographed item in all Vienna, according to our friends at the Vienna Tourist Board.
Here are three favorite places to enjoy Vienna's finest performing arts.
Vienna Philharmonic
Musikverein, Musikvereinsplatz 1
1010 Vienna
Thrill to the power of classical music performed by one of the world's finest orchestras.
Founded in 1842, the Wiener Philharmoniker carries the legacy of European musical traditions into the modern age.
Its New Year's Concert is perhaps the most desired, most exclusive ticket in town.
Because no one may purchase a ticket outright. Instead, tickets are only drawn by lottery after online application at the Vienna Philharmonic's website.
Applications open February 1 and close February 28. Later in March, applications learn whether or not they have won the ticket lottery either to the New Year's Concert, the Preview Performance, or the New Year's Eve Concert.
Besides these lucky lottery winners, everyone else must content themselves with watching the international broadcast.
Vienna State Opera
Staatsoper, Opernring 2
1010 Vienna
Revel in the wealth of operas and ballets performed in Vienna's acclaimed opera house.
Opened in 1869, the Wiener Staatsoper commands the Ringstrasse. Its rich repertoire astounds and astonishes both in quantity and in quality,
Not surprisingly, the Vienna Philharmonic auditions and selects its members after tenure in the State Opera Symphony.
The opera house additionally hosts the fabled Vienna Opera Ball, a fėte without compare on the Viennese social calendar.
This shimmering soirée of ballgowns and white-tie tailcoats, of debutantes and escorts, of etiquette and elegance, is a treasured tradition at Carnival time.
Classic Ensemble Vienna
Peterskirche, Petersplatz
1010 Wien
Embrace the stirring sounds of a string quartet performed in a sacred setting.
Concerts at Stephansdom, Karlskirche, and other churches certainly stir the soul and lift the spirit.
But the Classic Ensemble Vienna at Peterskirche offers an ambience and experience unlike any other.
St. Peter's Church is a Baroque jewel-box of a church. Construction began in 1701 on ground long sacred in the old town.
The fortunate ticket-holders, limited to approximately 50, gasp in hushed awe as they arrive.
Because the domed and gilded church interior gleams in golden hues.
When the quartet of professional musicians in formal attire take to the tiny stage, all is silent. Until bows touch strings in perfect unison.
Performing without intermission, the ensemble plays the most memorable works by great composers such as Bach, Beethoven, Mozart, Schubert, and Vivaldi.
Exquisite surroundings, excellent acoustics, and above all, expert musicians make for an unforgettable experience.
Places of Worship
St. Stephen's Cathedral

Stephansplatz 3
1010 Wien
The city's symbol, its sacred and actual geographic center, is without doubt Domkirche St. Stephan. Stephansdom is also the nation's heart.
Groundbreaking on this glorious Gothic cathedral began in the early 12th century.
Restoration has repaired centuries of fires' ravage, wars' damage, and time's passage. Preservation ongoing preserves and protects Stefansdom for future generations.
We especially recommend the faithful to attend worship service here. Its superlative music program, with organ and choir, uplifts the soul with joy.
Afterwards, ascend either the North Tower or South Tower for panoramic Viennese vistas.
Access the North Tower multi-level viewing platform by tiny yet modern elevator.
Step out onto the lofty perch, 224 feet (68m) high, for an eagle's view of the pitched roof's colourful tiles and imperial mosaics. Plus an up-close look at the powerful bell, Pummerin.
Alternatively, aspire even higher on foot to the loftiest perch, the South Tower.
This mighty medieval tower soars 446 feet (136m) high.
To access the Türmerstube viewing room, prepare to climb 343 steps up a narrow spiral staircase. Afterwards, descend those same 343 steps down to the ground floor.
St. Charles' Church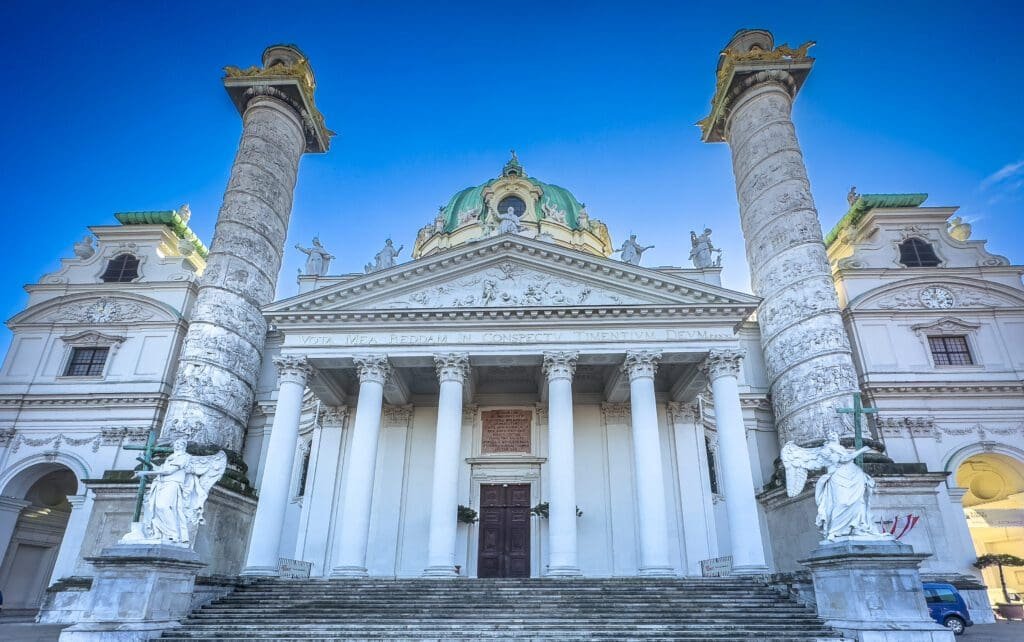 Karlsplatz
1040 Wien
The patinated dome and spires of Karlskirche rise over Vienna's southern skyline. Its dramatic exterior leads to an awe-inspiring interior.
Completed circa 1737 to 1739 and dedicated to Charles Borromeo after a earlier plague, St. Charles' Church offers calm repose and contemplation today.
Its aesthetic is markedly distinct from the usual emphatically ornamented Baroque architecture. Given that lighter touch, the pale palette employed throughout refreshes the eye and the heart.
The frescoed dome firstly calls the gaze upward. The high altar, expressed solely in white and gold, meanwhile illuminates all with celestial light.
Cafés and Coffee Culture

It's always a good idea and a great time to visit a grand Viennese coffee house.
Because cafés and coffee culture are an integral and indispensable part of Viennese life since the 19th century.
Conversation over a steaming hot melange and a freshly baked pastry surely heads a list of the best things to do in winter.
Café Landtmann
Universitätsring 4
1010 Wien
Since 1873, Café Landtmann has been the consummate choice for chic locals and chic travelers alike.
Its location is prime: a short walk from Rathausplatz, the bustling square in front of City Hall, and steps from Burgtheater, the national theater of Austria.
Tuxedo-clad waiters, gleaming woods, white linen tablecloths, and fresh florals impart elegance.
Landtmann's Apfelstrudel interprets this venerable pastry in a light and airy version. Delicate vanilla sauce finishes the dessert with perfection.
Café Hawelka
Dorotheergasse 6
1010 Wien
Leopold and Josefine Hawelka opened their eponymous café in 1939. They closed the café during wartime, and subsequently re-opened in 1945.
Authors, artists, intelligentsia, and everyone else gather in its cozy and dark environs. The well-loved and well-worn atmosphere appears original and unchanged.
Consider the Buchtein sweet rolls to accompany your coffee or tea. For over 60 years, Frau Hawelka herself baked these rolls daily. The next generation of family continues her tasty tradition.
Café Sperl
Gumpendorferstrasse 11
1060 Wien
Since 1880, Café Sperl welcomes patrons with authentic patina, cozy atmosphere, and billiard tables.
Satisfy any chocolate cravings either with the Sperl Schokoschnitte or with the singular Sperltorte. The Sperltorte recipe is a closely kept secret.
Winter Sports

In the winter season, one of the best ways to enjoy Austria's capital city is ice skating al fresco.
Skating has a long legacy and lore in Viennese history.
Indeed, UNESCO decreed ice dancing – dancing in circle around the ice to music – to be part of Austria's Intangible Cultural Heritage.
Wiener Eistraum
Rathausplatz
1010 Wien
From late January to early March, the area in front of the Rathaus transforms into the world's most beautiful open air ice extravaganza.
Vienna Ice World covers almost 91,500 square feet (8,500 square meters). Special lighting illuminates skating trails, curling rings, and multiple rinks on two levels.
Surrounded by stunning architecture, skaters glide in smooth strokes across glistening ice.
No ice skates? No problem. Figure and hockey skates are available for on-site rental. Helmets, stay-upright skating aids for beginners, and other services support safety and enhance enjoyment.
There's only one time of year for this fairytale setting and festive atmosphere at Vienna City Hall.
It's one of the best things to do in winter, and clearly unique to Vienna.
In truth, it's a Viennese Ice Dream come true.
Wiener Eislaufverein
Lothringerstrasse 22
1030 Wien
Since 1867, the Vienna Ice Skating Club operates the city's longtime winter facility on the Ringstrasse.
On one hand, the 19th-century Konzerthaus Hall flanks one side of the rink.
On the other hand, Vienna's first skyscraper, the 1960s InterContinental Vienna Hotel.
From late October to early March, the association and its outdoor ice rink serve hockey, figure skating, and speed skating.
The spacious surface can divide into two sections, with the smaller section for private lessons and group training sessions.
Although ice skating is one of the best things to do in winter, this location re-purposes for year-round use. The area overall is slated for renovation and development soon.
Skiing
Imagine dressing warmly and striding briskly in healthy rhythm along the trails and streets of Vienna in winter.
Running, hiking, and cross-country skiing are favorite things to do in the cold season.
Vienna boasts several cross-country skiing trails within city limits, including the central Prater location.
Skiing in the Austrian Alps can be arranged as a full day trip, either via train or on a tour with motorcoach transportation.
Winter Attractions
Prater Vienna
Riesenradplatz 2
1020 Vienna
The Prater Wien provides beloved attractions, modern amusements, and adventure. It's a great place for fun and excitement in the holiday season and throughout winter.
Since 1897, the Prater is particularly famous for its historic Riesenrad, the Giant Ferris Wheel.
Celebrating Emperor Franz Joseph I's coronation, its impressive scale and structure define the cityscape.
With fully enclosed wagons, the Giant Ferris Wheel offers astonishing views from 212 feet (64.7 m) high. Especially in the Christmas season, when the city shines with sparkling Christmas lights.
Children and grown-ups alike enjoy not only nostalgic rides, but also modern chills and thrills.
Many amusement rides run from mid March to October's end. However, attractions like Madame Tussaud's Wax Museum and Kingdom of Railroads remain open in winter.
The annual winter market at Riesenradplatz runs from mid November to early January.
Grab a mug of hot punch or traditional glühwein, mulled wine spiced with cinnamon, cloves, anise, orange, and sugar.
Then groove to live music performances every night, including Christmas Eve and New Year's Eve.
Therme Wien
Kurbadstrasse 14
1100 Wien
Warm up and wind down in winter time at Therme Wien, Vienna's thermal spa fed by the Oberlaa natural spring.
Therme Wien blends the traditional European thermal spa with today's approach to wellness, wellbeing, and fitness. Indoor and outdoor pools, sauna and steam rooms, gym, and relaxation lounges await on property.
Therme Wien welcomes not only adults but also families: Children-friendly zones include water slides, an adventure pool with "wild water rapids," and an indoor diving pool.
Public Transportation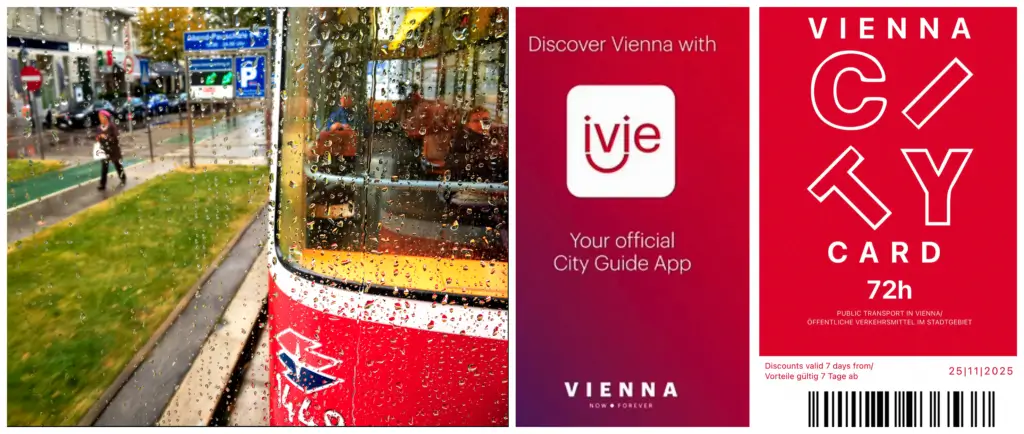 Vienna's extensive public transportation network makes it easy to get around in winter. Comfortable, too, since trains, trams, and trolleys are of course heated.
The ivie app and Vienna City Card makes exploration even easier, more efficient, and in fact, less expensive.
Because the ivie app and Vienna City Card thus put the entire city, and discount savings, at your fingertips.
ivie app
The ivie app is an ideal travel companion on a Viennese sojourn. It's a complete digital guide of the best things to do in winter and other seasons.
Free of charge, the ivie app incorporates numerous useful elements such as:
Maps and directions to everything, everywhere
Planning tips and need-to-know info
Sightseeing tours and self-guided walks
Insider secrets and behind-the-scenes stories to travel like a local
Download the free ivie app either via the App Store ("ivie – Vienna Guide"), or on the Vienna Tourist Board website.
Vienna City Card
Add on the award-winning Vienna City Card, now that you've download the ivie app. This helpful card combines:
Unlimited free public transport in 24, 48, and 72-hour timeframes
24-hour Hop-On/Hop-Off city tour ticket
Discounts to museums, attractions, shopping, and more
Other benefits galore
The ivie app and Vienna City Card elevate the experience with engaging content, ample savings, and complete convenience.
Moreover, to extend the transport timeframe is inexpensive and quick.
Simply pop into the Tourist Information Office, whose friendly staff (hallo, Ingrid!) will handle your request:
Tourist Information Office
Albertinaplatz, Maysedergasse
1010 Wien
In Conclusion: Vienna in Winter
Vienna in winter is, without question, the perfect place to be during a magical season.
Austria's historic, romantic, and vibrant city offers countless things to do, see, and celebrate during a magical season.
So, yes, do come to Vienna in winter without doubt. Whether your dates fall in November through December of last year, or January through March of this new year. Regardless if the weather delivers a snowy white Christmas or rainy grey skies.
Come explore, experience, be inspired by this resplendent city in winter.
Because this time is the perfect time to visit Vienna now.
•••
READ: Where to Stay in Vienna: Best Areas and Hotels
READ: Europe's Christmas Markets: Vienna, Austria
LEARN: About Vienna Tourist Board
•••
All opinions expressed are Spotlight Sojourns' own. When you book or make a purchase through links, Spotlight Sojourns may earn a small commission at no cost to you.