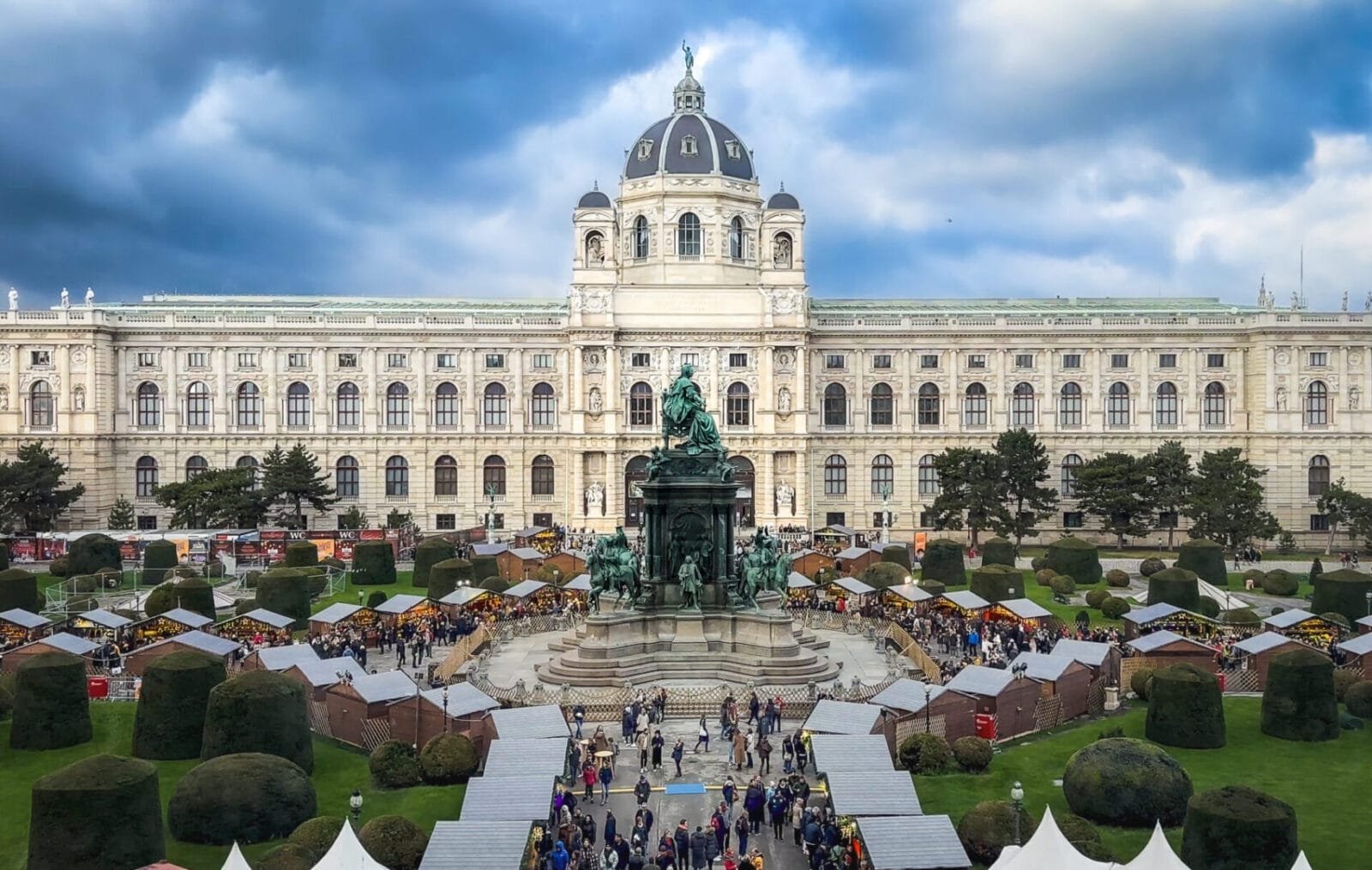 Europe's Christmas markets combine time-honored traditions, timeless treasures, and twinkle aplenty into an annual extravaganza. Vienna's Christmas markets make the festive season especially magical in the historic, romantic Austrian capital.
Throughout the Continent, Advent markets uphold the authentic experience in cities large and small. Open, available, and accessible to all.
Vienna, Austria, traces its annual festive celebration back to December 1296, when Hapsburg ruler Albrecht I decreed the first Krippenmarkt.
Over 725 years later, the Weihnachtsmärkte is an essential event in this UNESCO World Heritage City and the World's Most Livable City 2018, 2019, and 2022.
Today, numerous Christmas village settings offer overall a wonderful array of:
Artisanal handicrafts
Delicious treats
Abundant entertainment
Nativity scenes
Beautiful decorations
Brilliant illuminations
Christmas villages typically open in mid-to-late November and run through late December. However, some transition to New Year's Markets and remain open through early January.
Furthermore, a visit to the capital city's grand cafés elevates the experience.
Coffee and cafés are an integral and indispensable part of Viennese life since the 19th century. In fact, UNESCO named Viennese coffeehouse culture part of its Intangible Cultural Heritage.
Thus, each of Vienna's Christmas villages below pair with a specific café recommendation nearby. Of course, there are many more from which to choose.
So, let's wander through Vienna's most famous and fabled markets.
Ready? Let's go!
Europe's Christmas Markets: Vienna's Best
Viennese Christmas Market on City Hall Square
Rathausplatz
1010 Wien
Live the Viennese dream at Christkindlmarket, the city's official celebration. The elaborate neo-Gothic Rathaus creates a breathtaking backdrop for this beloved Christmas market.
Ice skating at the outdoor ice rink set up in Rathausplatz is a special and unique highlight. A colorful and classic two-tiered carousel, debuted for the 2022 Advent season, enhances the charm.
Another key point about Rathausplatz: From January to March, the old town square transforms into Vienna Ice World. Covering almost 91,500 square feet (8,500 m2) on two levels. Special lighting and live entertainment contribute to the world's most exquisite open-air skating experience.
Café Landtmann
Universitätsring 4
1010 Wien
Since 1873. Café Landtmann has been the consummate choice both for chic locals and travelers alike. Tuxedo-clad waiters, gleaming woods, white linen tablecloths, and fresh florals imbue the atmosphere with elegance.
Landtmann's Apfelstrudel is a light and airy version of this venerable pastry. Its pool of delicate vanilla sauce finishes the dessert with perfection.
Christmas Village on Maria Theresa Square
Maria-Theresien-Platz
1010 Wien
Rejoice in a regal and remarkable setting under the Empress' watchful eye.
Charming market stalls meander between the majestic Kunsthistorisches / Art History Museum and the Naturhistoriches / Natural History Museum.
Café Sperl
Gumpendorferstrasse 11
1060 Wien
Since 1880. Café Sperl welcomes patrons with authentic patina, cozy atmosphere, and billiard tables.
If chocolate is a craving, then the secret recipe Sperltorte and also the Sperl Schokoschnitte should surely satisfy .
Christmas Market on St. Stephen's Square
Stephansplatz
1010 Wien
Celebrate in the splendid surroundings of St. Stephen's glorious Gothic cathedral, the city's symbol and the nation's heart.
When strolling through the handsomely decorated stalls, take note of the high quality handicrafts from across Austria. Many artisans place a gentle emphasis on sacred designs.
Café Diglas
Wollzeile 10
1010 Wien
Since 1923. Café Diglas stands at the intersection of history and modernity. Tulle petticoats adorn the pendant lights. Red leather covers the banquettes. Lively conversations bid you enter and embrace the whimsy.
Ensure to order the Scheiterhaufen, a signature house dessert. Bread pudding nestles in vanilla sauce, topped with a tower of meringue.
Christmas Village at Belvedere Palace
Prinz-Eugen-Strasse 27
1030 Wien
Firstly, come for the palatial and pleasant Christmas village on the elegant exterior grounds of this Baroque landmark museum. It's actually two palaces: Upper Belvedere and Lower Belvedere.
Secondly, stay for the exceptional artwork from Medieval to Viennese Modernism eras, including the world's largest Klimt collection on display.
Café Schwarzenberg
Kärntner Ring 17
1010 Wien
Since 1861. Café Schwarzenberg is the oldest existing Viennese café on the Ringstrasse. Its historic interior preserves much original charm; for example, the ladies' room with 1920s marble elements.
Among delectable choices in the pastry case, the Walnusstorte coupled with Schlag (whipped cream) plays a starring role.
Old Viennese Christmas Market on Freyung
Freyung
1010 Wien
Dating from 1772, this quiet and quaint Christkindlmarkt offers a cozy option to the bustle of bigger Christmas villages. Besides traditional craft and culinary stalls, a farmers market expands the fresh local and regional specialties available.
Not only is this Vienna's oldest operating village, but also it offers another unique aspect:
A street-facing Nativity panel, 150 feet (46 m) long, encloses the outer boundary. Its sweet storytelling charms market-goers and passers-by alike.
Café Tirolerhof
Führichgasse 8
1010 Wien
Since 1882. At Café Tirolerhof, black-framed arched windows beckon you into the cool cream interior. Crystal chandeliers add ample sparkle.
The Hausgemachter Apfelstrudel comes with your choice of either vanilla sauce or fresh whipped cream. Or, the waiter said with a twinkle, "Why not both?"
"Why not both, indeed!" is obviously the correct, though indulgent, answer.
Europe's Christmas Markets: In Conclusion
Amidst imperial splendors and with centuries of tradition, Vienna's Christmas markets rank among the very best in Austria and indeed all of Europe.
Centuries of tradition and celebration unfold here:
From the sacred setting of St. Stephen's Cathedral in Stephansplatz and Karlskirche in Karlsplatz
Against the majestic backdrop of Hofburg imperial palace and Schloss Schönbrunn
In the lively atmosphere of the Prater Wien
And also, of course, to the perennially popular Christkindlmarkt in City Hall Square
So, come explore, experience, be inspired by the fairytale festive season in this historic, romantic city.
Because Christmas time is a memorable and magical time to visit Vienna now.
•••
READ: Vienna in Winter: Best Things to Do During a Magical Season
LEARN MORE: Vienna Tourist Board
•••
All opinions expressed are Spotlight Sojourns' own. When you book or make a purchase through links, Spotlight Sojourns may earn a small commission at no cost to you.