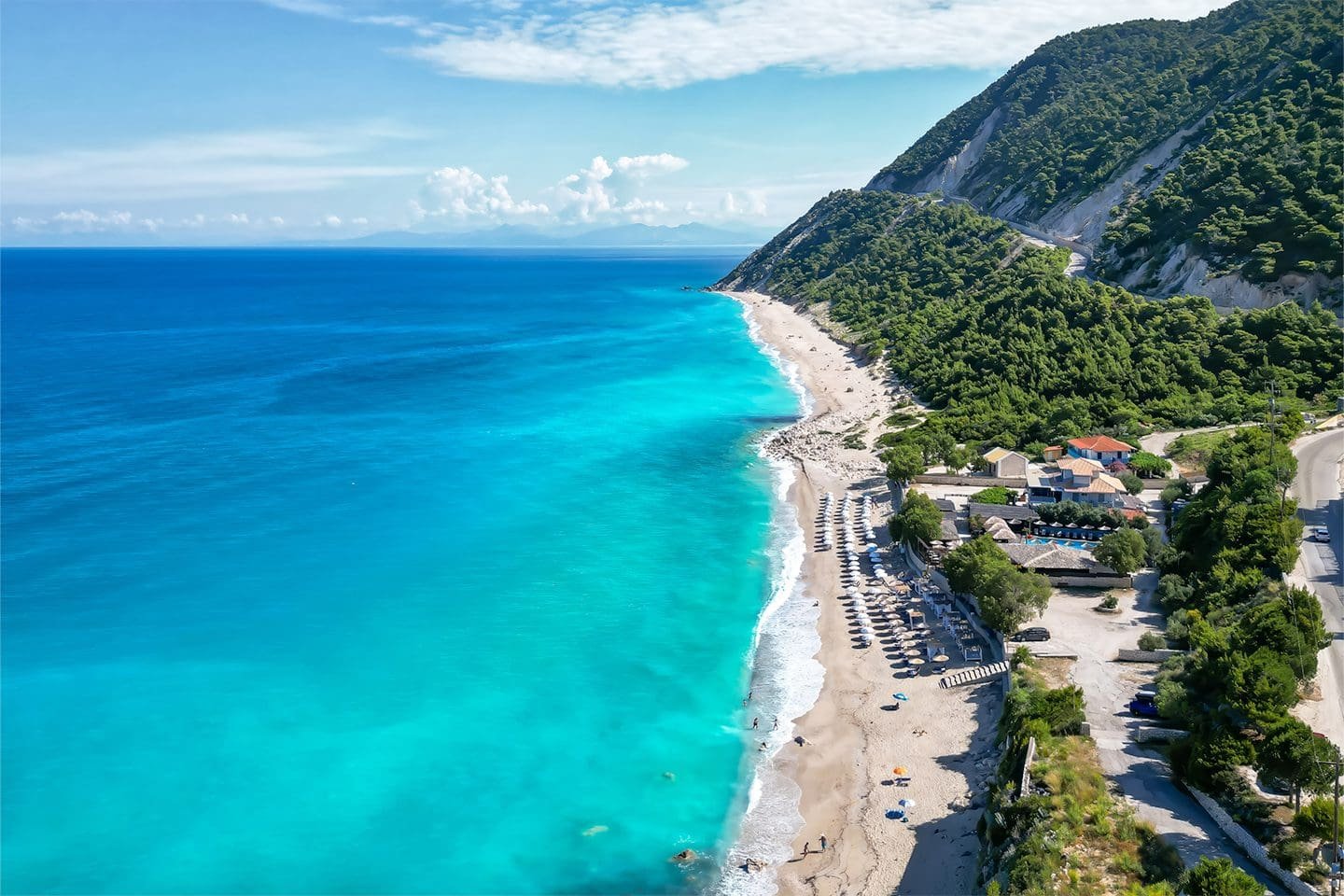 Landmarks in Greece often evoke the ancient past and timeless mythology. But there's more, much more to explore, experience, and inspire your visit.
Greece spans millenia from the mist-shrouded past to the vibrant modern nation of present. In the same way, the nation offers a wealth of landmark wonders in its urbane cities, small towns, and vibrant villages.
Discover these famous landmarks of rich history, natural beauty, and hidden gems throughout the mainland and on the islands. And also discover some fabulous hidden gems.
Ready? Let's go!
Landmarks in Greece: Ionian Islands
Lefkada
Just as legends connect ancient Ithaca to modern Lefkada , a narrow causeway and short bridge connect this Ionian island to Greece's mainland.
Historians study Lefkada's epic tales of goddess Aphrodite, Homer's great adventurer Odysseus, tragic poet Sappho, and Britain's first king Brutus of Troy. As well as Romans, Ottomans, Venetians, and others over the centuries.
Sailors, windsurfers, paragliders, snorkelers, and scuba divers call it a "Paradise of Sea Sports."
Sun seekers flock to popular and beautiful beaches such as Pefkoulia, Kathisma, Egremni, Porto Katsiki, Nidri, and Vasiliki.
Famous Landmarks: Beaches
In 2023, Greece ranked 2nd worldwide for the most Blue Flag Awards. Six Lefkada beaches won this prestigious recognition for quality of environment, education, safety, and accessibility:
Agios Nikitas-Pefkoulia
Agios Giannis
Kathisma 1
Lefkada-Gyra
Mikros Gialos-Poros
Ponti
Postcard-worthy white beaches of sand and stone define the scenic coastline.
Pristine pine forests, rugged mountains, and steep cliffs distinguish the dramatic landscape.
Resplendent hues of azure, turquoise, and emerald dazzle the crystal clear Ionian Sea.
Some beaches offer organized and manicured environments complete with sun beds, sun shades, casual restaurants, and lively bars.
Other beaches are quiet, remote, and serene.
One long expanse on the western side, from Lefkada-Gyra to Agios Giannis, even offers derelict windmills.
In short, legendary beaches are among Lefkada's famous landmarks in Greece's Ionian Sea.
•••
READ: Where to Stay in Vienna: Best Areas and Hotels
READ: Vienna in Winter: Best Things to Do During a Magical Season
LEARN ABOUT: Visit Greece
GET: Now that you've heard Greece's story, get your free exclusive guide to tell your own story easily.
•••
All opinions expressed are Spotlight Sojourns' own. When you book or make purchases through links, Spotlight Sojourns may earn a small commission at no cost to you.