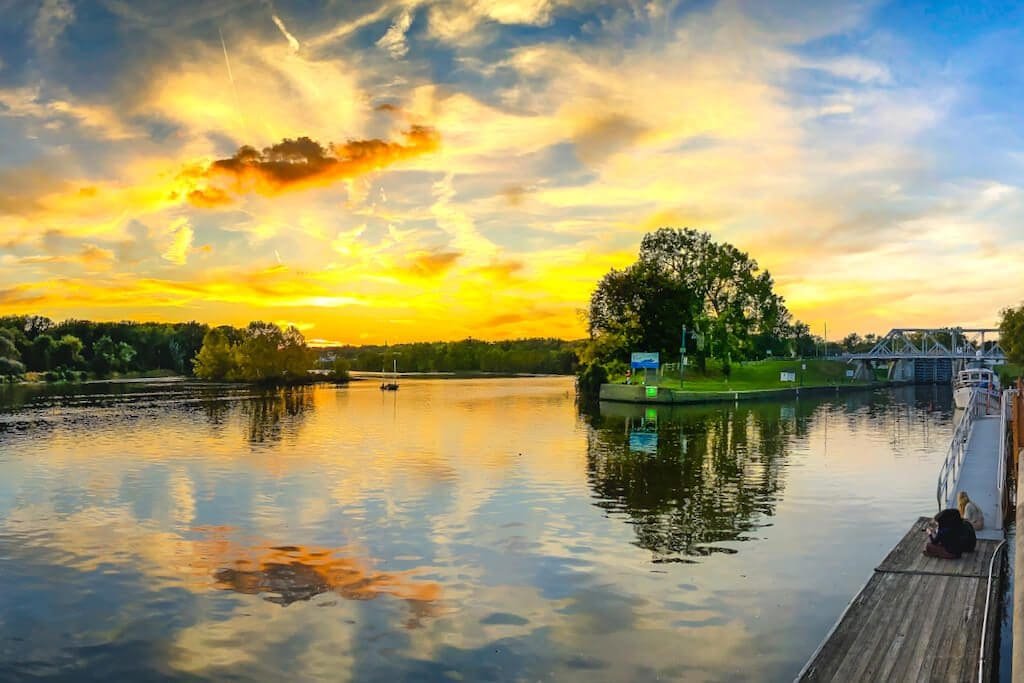 Add the Erie Canalway, 8th wonder of the world in the 19th century and navigable National Historic Landmark, to your travel bucket list.
The legendary canalway thoroughly delights outdoor enthusiasts. Get on the water with boat, kayak, or canoe. Bike, hike, or run along the Erie Canalway Trail, part of the 750 mile (1,207 km) Empire State Trail.
The world-changing waterway especially enchants those who navigate by car through the Erie Canalway National Heritage Corridor, 524 miles (843.2 km) East to West across New York State.
So, why drive? Because driving allows you to explore, experience, and be inspired by the Erie Canal's story in a thoughtful and purposeful manner. To engage its heart and its meaning in an attentive and immersive way.
Sure, the New York State Thruway certainly can speed you across the state in a straight line.
But this journey isn't about efficiency.
This journey is about discovery.
Firstly, it's about seeing:
A rare and remarkable resource found nowhere else.
An epic project of vision and passion that put the "empire" in Empire State.
Arts, culture, community and hospitality in canal villages, towns, and big cities alike.
Secondly, it's about understanding:
Rich history.
Ongoing resilience through boom, bust and rebirth.
Modern-day relevance.
Erie Canalway: Perspective Changes Everything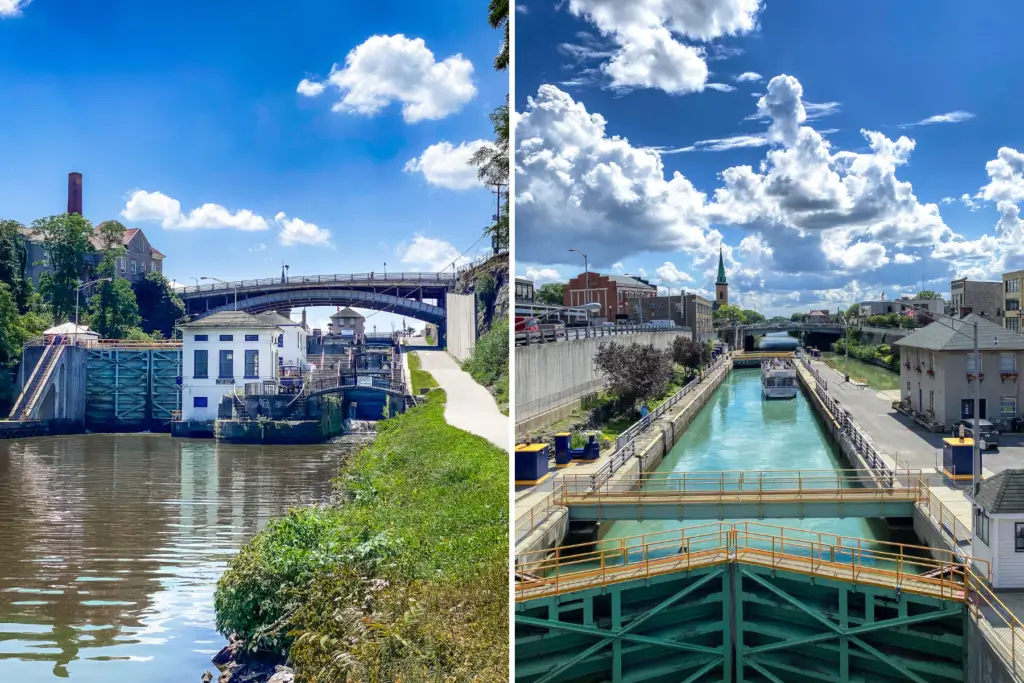 At Spotlight Sojourns, we believe perspective changes everything. Because perspective is everything.
And how a sudden change in perspective inspired our Erie Canal odyssey:
In August, we popped into Lockport, home to hot-spot Steamworks Coffee Roasters. We'd been there countless times since moving from our hometown, San Francisco.
Lockport is the canal's current western terminus and the Locks Heritage District with the fabled Flight of Five Locks. This time, unlike previous times, we serendipitously saw a boat locking through Locks 34 and 35.
Suddenly, this centuries-old technology in action captivated us. Surprisingly, our perspective promptly changed from "Oh, okay" to "Oh wow!"
Soon thereafter, we set out to learn why and how the Erie Canal creates impact.
Erie Canalway: An Overview of Flow
The Erie Canal itself flows 363 miles (584.1 km) long and countless smiles wide. This liquid path of blue forms a "Main Street" in renaissance today from the 19th-century heyday.
The canal connects:
Cities, towns, and villages from Albany to Buffalo.
Past, present, and future.
Hues of blues and shades of seasons.
Our initial travel itinerary took us west to east, following the inaugural route of Governor DeWitt Clinton sailing aboard the Seneca Chief on Opening Day, October 26, 1825.
On your own journey, go in any direction you choose. For as long or short a trip as you like.
Because there's something special – and someone special – to discover everywhere along the Erie Canalway National Heritage Corridor.
Ready? Buckle up, and let's go!
Western New York: Buffalo to Rochester
Early morning, with piping-hot coffee placed in cupholders, head out along the back roads of Upstate New York.
Buffalo's lively Canalside waterfront area was once the canal's original western terminus. Here in the Longshed, the Buffalo Maritime Center is presently building the Seneca Chief replica canal boat for the Erie Canal Bicentennial and World Canal Conference in 2025.
Cruise east through thriving canal locales such as Lockport, Medina, and Brockport enroute to Rochester's urban environs.
Visit the Rochester Museum and Science Center where the hands-on canal exhibit playfully shows how the locks work. Don't let the formal name fool you: Science is super fun here in the high-touch Adventure Zone.
In pretty 19th-century Pittsford, book your passage aboard the Sam Patch replica packet boat for a scenic 90-minute cruise through Lock 32. Keep your eyes peeled for blue herons and other wildlife.
Besides Pittsford, both Bushnell's Basin and delightful Fairport form the Erie Canalway's "sweet spot." Quite literally! Abbott's Frozen Custard dishes up sweet treats since 1902.
Afterward, spend the evening at Del Monte Lodge Renaissance Rochester Hotel and Spa, the best choice for canalside location and tranquil luxury.
Central New York: Rochester to Utica
When in Syracuse, the Erie Canal Museum is a must-visit. Housed in the 1850 Weighlock Building, the museum delivers excellent education with ample colorful exhibits. Tour both floors and the Locktender's Garden. Walk through the full-size Frank Buchanan Thomson replica canal boat.
Gateway to the Getaway Region, Utica revitalizes its present with public art projects, a dynamic culinary scene, and diverse community.
Likewise, Utica's landmark buildings in active use, such as 1914 Union Station, restore and renew Golden Age innovations. For example, engineers re-routed the Mohawk River in order to expand the Erie Canal and build this grand station. Over 100 years later, it's a public transportation center for Amtrak trains, Adirondack Railroad heritage railway, and bus companies.
If scheduling stars align, then catch a show at the spectacular Stanley Theatre. This 1928 masterpiece remains original and intact from opening day, even to the exact replica of the Titanic staircase. Home to the Utica Symphony Orchestra, Mohawk Valley Ballet, and big-time Broadway productions, the Stanley is additionally certified as a New York State soundstage.
When it's time to rest, the iconic Doubletree by Hilton Hotel Utica is an ideal choice. Reborn after decades of decay, this downtown gem gleams anew following careful and conscientious restoration.
Central New York: Utica to Amsterdam
Though its focus is earlier than the Erie Canalway, the Fort Plain Museum and Historical Park is well worth a visit. Its mission is to preserve and protect the Mohawk Valley's Native American and Revolutionary War legacy. The bookstore offers 600+ titles, perhaps the largest literary resource on this topic anywhere.
A major attraction in a quaint canal town, the Arkell Museum and Canajoharie Library promote and celebrate American arts and Mohawk Valley history. Striking streamlined architecture at the original Beech-Nut factory site showcases world-class exhibits. For instance:
Founder Bartlett Arkell's personal collection of major American works
Beech-Nut's early 20th-century advertising materials
Extensive regional art
In Fort Hunter, Schoharie Crossing State Historic Site is a verdant treasure trove. Here, thrill your inner archaeologist with all three Erie Canalway eras, as well as the Schoharie Aqueduct ruins. Additionally, the Visitors Center offers interactive displays and a super-cool scale model of the aqueduct.
While there's still much to discover on your journey, the Amsterdam Castle invites you to a relaxing respite. This 1895 armory, converted to an undeniably unique boutique hotel and restaurant, presents European-inspired ambience.
Eastern New York: Amsterdam to Albany
Welcome to the vibrant and vital heart of New York State power, politics, civics, and culture for four centuries and counting.
Capital City
To begin with, tour the magnificent New York State Capitol, completed in 1899 after 32 years of construction. Free guided tours of this National Historic Landmark are available on weekdays. The majestic "million-dollar staircase" of Medina sandstone surely was brought from Western New York via Erie Canal barge.
Also, stroll over to the Empire State Plaza, Governor Nelson Rockefeller's Modernist monument built 1965 to 1976. This extraordinary expanse encompasses the Empire State Plaza Art Collection, The Egg Performing Arts Center, and more. The New York State Museum includes the mighty Ice Age Cohoes Masodon, uncovered in 1866.
Later, see a show at the phenomenal Palace Theatre, Albany's 1931 Art Deco movie temple. Its original interior includes restored artwork and charming candy concession stand. This premier performance venue not only hosts major concerts, comedy shows, and film screenings; but also supports arts education for thousands of children and families. Furthermore, the renowned Albany Symphony calls the Palace home.
Given that Albany County offers a wealth of wonders, the Renaissance Albany Hotel provides a convenient and comfortable base in the Capital Region. Its central location nestles at the foot of the Capitol Building. Its elegant style blends handsome heritage, contemporary design, and a dash of artistic whimsy.
Capital Region
When you head out from Albany, visit three special Erie Canalway communities: Cohoes, Troy, and Waterford.
The intimate Cohoes Music Hall in Spindle City retains original ornate decor, cozy seating, and excellent acoustics. Popular programming has kept the venue operating continuously since 1874.
Once you "shop small, shop local" in the downtown National Register Historic District, then head up through Harmony Mills Historic District to Cohoes Falls, 90 feet (28 m) high and 1,000 feet (305 m) wide.
Some call these thundering cataracts "the Niagara Falls of Eastern New York." However, Cohoes Falls have their own distinct drama.
Across the Hudson River, Collar City boasts its own National Historic Landmark: the exceptional 1875 Troy Savings Bank Music Hall with perfect acoustics.
Independent boutiques, posh cafés, and stylish eateries line the bustling streets of beautiful downtown. Due to the 19th-century architectural wealth well preserved here, HBO chose Troy to film its hit series, The Gilded Age.
Finally, Waterford marks the Erie Canal's eastern terminus, at the confluence of the Mohawk and Hudson Rivers. From here, you can either "turn left" to continue north up the Champlain Canal to Canada; or "turn right" to cruise south down the Hudson River to New York City.
The Flight of Five Locks at either end – Lockport in the West, Waterford in the East – completes the Erie Canal, end to end. Similarly, the paired Flight of Five Locks completes your journey, end to end.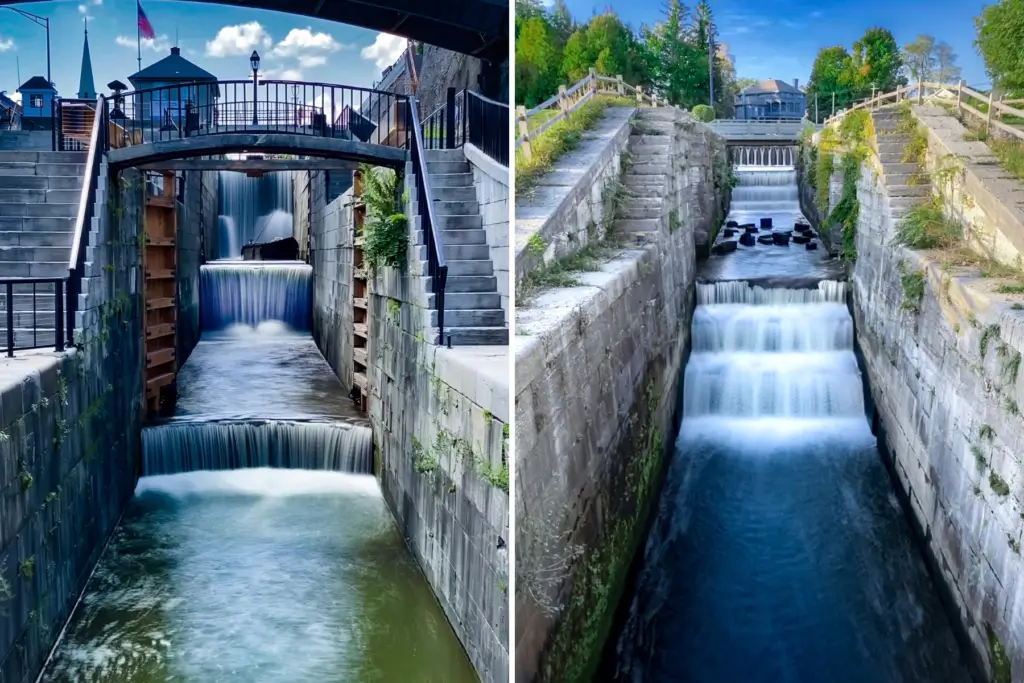 Erie Canalway: The Heart and the Hope
"And you'll always know your neighbor
And you'll always know your pal
If you've ever navigated on the Erie Canal"
("Low Bridge, Everybody Down" by Thomas S. Allen, 1905)
Here's the Heart
When you navigate the Erie Canal by water or land, meet new "neighbors and pals" such as:
Because the Erie Canalway's heart is people. Proud, hospitable, unforgettable ambassadors of the canal, canal culture, and canal communities.
Here's the Meaning
Every 4th grader learns about the Erie Canalway: 8th wonder of the world. Epic project of vision and passion that put the "empire" in Empire State.
The canal transformed how we live, work, meet, and travel. It opened up the state, the continent, and in fact, the world.
But it's more than musty, dusty history.
It's a real-life, life-changing story about a rare and remarkable resource, places, and people.
Because the Erie Canalway's meaning is hope. Buoyant, audacious, enduring hope.
Ever since Opening Day on October 26, 1825, despite wars, floods, fires, and hardships, the Erie Canal never stops operating.
It's as if endless waves of hope flow across the canal, canal culture, and canal communities. Through boom and bust, revitalization and renaissance. For two centuries and counting.
So, add the Erie Canalway National Heritage Corridor to your travel bucket list.
Discover its singular history, powerful resilience, and compelling relevance today.
Come explore, experience, be inspired by its heart and its hope.
•••
READ: Best Places to Stay on the Erie Canal
READ: 8 Great Erie Canal Specialty Coffee Shops
GET: Your free exclusive curated guide to all the best specialty coffee along the Erie Canalway National Heritage Corridor.
•••
All opinions expressed are Spotlight Sojourns' own. When you book or make purchases through links, Spotlight Sojourns may earn a small commission at no cost to you.