The Erie Canal specialty coffee scene ranks among the exciting and exceptional experiences to discover along New York State's navigable National Historic Landmark.
Indeed, the Erie Canalway National Heritage Corridor offers something special to discover everywhere. As it was true two centuries ago, so is it true today.
In the 19th century, the Erie Canal, 8th wonder of the world, put the "empire" in Empire State.
Opening on October 26, 1825, and operating continuously ever since, it transformed not only the state, but also the continent, and indeed the world.
But it's more than a world-changing waterway. It's more than an outdoor enthusiast's paradise.
This liquid path of blue across Upstate New York is a rare and remarkable resource found nowhere else.
Its arts, culture, and community are resilient and relevant.
Its hospitable folks in villages, small towns, and big cities are enduring and innovative.
The Erie Canal's outstanding 3rd Wave Coffee scene, even or perhaps especially in rural areas, illustrates this point.
Because artisanal excellence flows along the canal corridor from Albany to Buffalo.
So let's discover the very best of these high-quality cafés from Eastern to Western New York.
All independently selected, taste-tested, reviewed, and photographed by Spotlight Sojourns.
Ready? Let's go!
8 of the Best Erie Canal Specialty Coffee Shops
Eastern New York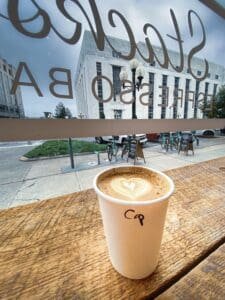 STACKS ESPRESSO BAR
488 Broadway, 260 Lark Street
Albany, Albany County
A capital cuppa.
Stacks serves Capitol City with multi-roasted beans, minimalist design, and multi-faceted community.
Enjoy their signature pour-over in two locations: Bright and airy Broadway. Intimate and cozy Lark Street café.
JACOB ALEJANDRO

274 River Street
Troy, Rensselaer County
Urban luxe.
Come for coffee culture from international award-winning latte artist Alejandro. And for house-made delights from Culinary Institute of America grad Jacob.
Come for sophisticated design inside. And for artistic inspiration outside on Franklin Alley.
Central New York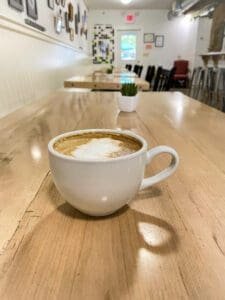 HIGHWHEELER COFFEE
84 Canal Street
Fort Plain, Montgomery County
World-class wonder.
Discover the biggest hidden gem of the Erie Canal 3rd Wave Coffee scene: off the beaten path in tiny Fort Plain (pop. 2,202 per the 2020 U.S. Census).
To find such quality in a tiny village took us by complete (and happy) surprise.
Highwheeler's cortado compares in balance and taste to the best we've had anywhere.
Gather in its airy ambience. Enjoy the local craft, cuisine, and character.
Do jot down an uplifting quote for the community wall, too. Because now you're a local, too.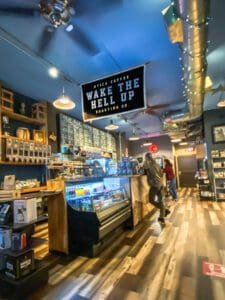 UTICA COFFEE ROASTING COMPANY
92 Genesee Street
Utica, Oneida County
The vanguard.
Utica Coffee leads the way in the historic downtown near the Erie Canal. This 3rd Wave Coffee shop represents the city's dynamic revival and diversity.
Plan noble deeds and meaningful pursuits in the bustling interior. On the front patio. And overlooking the vibrant muralscape created by local artists.
Then go forth, give back, and do good.
Finger Lakes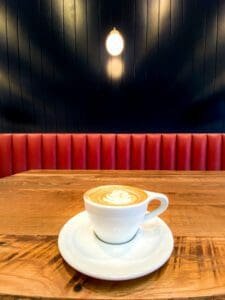 FAIRPOUR COFFEE ROASTERS
25 Parce Avenue, Suite 160
Fairport, Monroe County
Contemporary classic.
FairPour Coffee crafts small-batch specialty coffee and kombucha in the Erie Canal's "sweet spot.
To find this sleek and chic café, look for the 199-foot (61m) tall smokestack. The stack marks the spot of the circa 1908 American Can Company complex.
UGLY DUCK COFFEE

89 Charlotte Street
Rochester, Monroe County
Start today the ugly way.
The art of espresso, of conversation, of camaraderie – that's Ugly Duck Coffee.
Choose a seat inside, washed with natural light. Or outside under the "Til We Meet Again" mural by Erich Lehman and St.Monci.
Taste why Tasting Table named Ugly Duck as THE best coffee shop in New York State.
We'd say this quiet oasis in the East End hubbub is more lovely swan than ugly duck.
Western New York
STEAMWORKS COFFEE ROASTERS

51 Canal Street
Lockport, Niagara County
Old traditions. New innovations.
Popular since opening day at Locktoberfest 2016, Steamworks Coffee anchors the revitalized Locks Heritage District. Find this 3rd Wave hot spot right in front of Erie Canal Lock 35.
Games, a chalkboard wall, and friendly folks welcome you to linger.
Then, with espresso to go, take a stroll. Admire the restored Flight of Five Locks. Visit the life-size Lock Tenders Statues and the Lock District Museum. Explore charming Main Street.
OVERWINTER COFFEE
9 Genesee Street, 814 Elmwood Avenue
Buffalo, Erie County
5548 Main Street
Williamsville, Erie County
Singularly delicious.
On our inaugural visit to Overwinter Coffee's original Genesee Street location, the owner himself personally supervised the barista in preparing the very first off-the-menu cortado.
The single-origin goodness keeps flowing. The Overwinter locations keep growing.
More Great Erie Canal Specialty Coffee Shops
Undoubtedly, the Erie Canal specialty coffee scene will satisfy discerning coffee drinkers.
Although if you prefer tea, these cafés offer artisanal teas, too.
And there's even more awesome specialty coffee to discover along the Erie Canalway National Heritage Corridor.
So get your exclusive curated Erie Canal 3rd Wave Coffee Guide to the top hot spots and hidden gems.
All independently selected, taste-tested, reviewed, and photographed by Spotlight Sojourns.
Cheers!
•••
READ: Erie Canalway: Add This to Your Travel Bucket List
READ: Coffee in Vegas: Finding the Quiet Craft
LEARN MORE: Third Wave Coffee: It's All About Craft
•••
All opinions expressed are Spotlight Sojourns' own, and all cafés are independently selected by Spotlight Sojourns. When you book or make a purchase through links, Spotlight Sojourns may receive a small commission at no cost to you.