When you think of the best things to do in Las Vegas besides gamble, what comes to mind?
Luxury hotels and famous restaurants
Swanky nightlife and star-studded shows
Modern glitz and historic glam
The legendary Las Vegas Strip is certainly North America's epicenter of imagination and showmanship, of non-stop fun and high-stakes action.
But even in Sin City, hidden gems, real experiences, and unique inspirations await.
So, when you want to find the best places for authentic vibes and genuine connections,
Whenever you crave the quiet in-between the gambling, the glitz, and the glamour,
Then slip away from the slot machines, blackjack, and poker tables.
Explore, experience, be inspired by Vegas like a local.
Ready? Let's go!
Go Downtown
Downtown delivers fun things to do in Las Vegas besides gamble. It's big and bright. Historic yet energetic.
Downtown's dynamic heart, the Fremont Street Experience is Glitter Gulch, the original Strip before the Strip.
Stroll the long Fremont Street pedestrian mall, covered by an awning.
Fancy the facades of classic casinos such as:
Binion's Gaming Hall
Four Queens Hotel and Casino
Golden Gate Hotel and Casino, first opened in 1906
Golden Nugget, 2021 Best Dining and Nightlife and 2022 Best of Las Vegas Downtown winner
Savour the festive ambience.
Tap your toes and sing along to free live music and free shows, like Viva Vision.
Every night, Viva Vision Light Show unfolds directly above your head along the Fremont Street awning.
Because it's actually not an awning. Rather, it's the world's largest video screen running 1,375 feet (419.1m) long.
The stunning state-of-the-art spectacle, complete with concert-quality sound, dazzles and delights.
It's one of the best ways to celebrate the local "Viva Las Vegas" spirit, for free.
Learn History
The Neon Museum Las Vegas showcases the city's heyday and heritage both in an educational and entertaining way.
Travel and Leisure Magazine names the campus one of the Best Museums in the United States.
The 1960s La Concha Motel Visitors Center, North Gallery, and Neon Boneyard reveal their gems during the day and the night.
Choose either to wander at leisure or to take a docent guided tour.
Immerse yourself also in the brilliance of Brilliant! a nightly sons et lumières (sound and lights) show.
The Neon Museum surely offers only-in-Vegas awesomeness and photo ops galore.
While it further preserves and protects history, art, and culture for present and future generations.
770 Las Vegas Boulevard North
Just north of Downtown Las Vegas
Follow Signs
Historic Neon Signs
Resplendent after restoration from The Neon Museum, nine historic neon signs light up Downtown Las Vegas.
Find all nine signs during this only-in-Vegas treasure hunt.
Firstly, begin at Las Vegas Boulevard and Washington Avenue with Benny Binion's Horsehoe.
Then continue down Las Vegas Boulevard until Fremont Street to seek five more signs:
Golden Slipper / Silver Slipper Casino
Bow and Arrow Motel
Society Cleaners
Normandie Hotel
Lucky Cuss Motel
Next, head to Garces Avenue and Casino Center Drive for the 5th Street Liquor sign.
Lastly, complete the treasure hunt at Paradise Road, between Sahara Avenue and Desert Inn Road, with the Landmark Hotel sign.
Las Vegas Showgirls
Who would think two Showgirls, each 50' feet (15.2m) tall, could be a hidden gem?
New in 2022, the illuminated Showgirls pose over a colorful plaza complete with larger-than-life poker chips and dice.
This spectacular setting is often empty. Well, at least for now.
1810 Las Vegas Boulevard South
Downtown Las Vegas
Las Vegas Downtown Arches
Two enormous arches, each springing 80 feet (24.3m) high and spanning 140 feet (42.6m), soar over Las Vegas Boulevard.
Suspended from the center, a script sign 20 feet by 40 feet (6m by 12.1m) spells out "City of Las Vegas."
Over 13,000 lights illuminate the entire impressive structure next to the STRAT Hotel and Casino.
Between St. Louis and Bob Stupak Avenues
Downtown Las Vegas
Welcome to Fabulous Las Vegas Sign
Since 1959, the "Welcome to Fabulous Las Vegas, Nevada" sign greets northbound motorists. And reminds departing visitors to "Drive Carefully, Come Back Soon."
This world-famous neon sign undeniably defines iconic. It's listed on the State and the National Register of Historic Places.
However, for six decades and counting, it's never been located on the Strip.
Indeed, its actual location is the town of Paradise.
So, look for the 25 foot (7.6m) tall sign beyond the Strip's far southern edge, less than a mile after the Mandalay Bay Hotel and Casino.
The sign stands on a median with artificial turf. A paved walkway leads to a small parking lot plus loading areas for coaches, limos, and taxis.
Snap your shot like a local: Either arrive earlier in the morning, or later wait patiently in line.
5100 Las Vegas Boulevard South
Town of Paradise
Enjoy Arts
18B Arts District encompasses 18 blocks devoted to everything artsy, indie, and eclectic.
18B comprises a creative and caring community of artists, performers, and small-business owners who restore, renovate, and re-invigorate this neighborhood on the rise.
Murals abound on every street, down each alley, and around every corner. Constantly changing, ever evolving, and always exciting.
In short, to quote the 18B Arts District Association, it's "a walkable adventure."
With so much to see, eat, drink, shop, and do, you can also stay here in style, too.
Opened in 2022, The English Hotel presents the signature tastes of four-time James Beard award-winning chef Todd English in an upscale boutique property.
921 South Main Street
Arts District Las Vegas
Check current rates for this chic and sleek hotel.
Drink Coffee
What's one of the first things to do in Vegas besides gamble? Start your day with a cup of artisanal coffee or tea.
Where? At a specialty and 3rd Wave coffee shop.
Why? Because specialty and 3rd Wave Coffee is all about the quiet craft:
Craft in the cup. In the café. And in the community.
The quiet craft of coffee, culture, and community brews in the best Silver City cafés.
The top spot, Vesta Coffee Roasters draws locals and visitors alike.
Vesta's industrial-chic space provides farm-to-cup quality, farm-to-fork deliciousness, and friendly community.
1114 South Casino Center Boulevard #1
Arts District Las Vegas
Read Coffee in Vegas: Finding the Quiet Craft and grab your exclusive curated guide to Vegas' best coffee.
All independently selected, taste-tested, reviewed, and photographed by Spotlight Sojourns.
Afterwards, head back out on the town to keep the party going.
Because there's latte more things to do in Las Vegas besides gamble.
Embrace Nature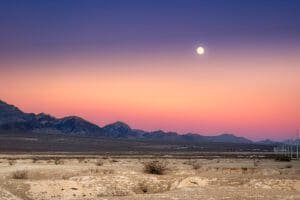 Embrace nature on the other side of Las Vegas.
It's a glorious and great place of natural wonders.
Where desert and mountains nestle near to, yet a world away from, the Strip.
It's the other side of a revelation.
Of dramatic vistas and endless sky. Soft pastels and fiery hues.
And piercing cold that comes on suddenly.
NOTE: State and National Parks are a short drive from Downtown and surrounding areas. A visit requires either to have a car or to book an arranged tour.
North of Las Vegas
Bighorn sheep roam free in the Desert National Wildlife Refuge, the largest wildlife refuge outside of Alaska.
Hayford Peak, roughly 10,000 feet (3,048m) above sea level, is the highest mountain in the Sheep Range.
South of Las Vegas
Along I-15 at Seven Magic Mountains, vivid public art bursts surprisingly from the arid desert floor.
Artist Ugo Rondinone created seven stone sculptures on public land. Painted boulders, carefully engineered and specifically stacked one atop the other, rise 25 feet (7.6m) high.
This free artwork installation provides a parking area but no visitors center, restrooms, or other amenities.
Instead, interpretive signs on-site, and the informative website linked above, offer ample insight.
West of Las Vegas
Hike, bike, or take the 13-mile one-way scenic drive through the namesake landscape of Red Rock Canyon National Conservation Area.
Red Rock Canyon is particularly popular for rock climbing. Its sandstone peaks and walls reach approximately 3,000 feet (914.4m) high.
East of Las Vegas
Breathtaking red sandstone formations and ancient petroglyphs highlight Valley of Fire Nevada State Park.
The vast Lake Mead National Recreation Area draws outdoor enthusiasts of all kinds. Diverse landscapes and two lakes, Lake Mohave and Lake Mead, spread across 1.5 million acres.
The nation's largest reservoir, Lake Mead was formed by the awe-inspiring might of Hoover Dam and is fed by the mighty Colorado River.
Longer Excursions
If your schedule allows either a full-day or perhaps an overnight stay, consider an outing to Death Valley National Park in California or to Grand Canyon National Park in Arizona.
Whether by automobile, on a coach tour, or via helicopter ride, these majestic destinations are worth visiting for unforgettable moments and bucket-list memories.
In Conclusion
There's so many favorite things to do in Las Vegas besides gamble.
Because Las Vegas is a spell-binding setting of imagination and showmanship, of fantasy and reality.
The Fantasy
Las Vegas is a global gambling and entertainment capital, of big shot high-rollers and 24-hour thrills.
With thrill rides like the giant High Roller observation wheel on the Linq Promenade. And the Big Apple roller coaster at New York New York Hotel and Casino.
It's where couples float on a gondola ride at the Venetian Hotel, either indoors along the Grand Canal Shoppes, or through the outdoor lagoon with the Rialto Bridge.
Where they gaze at glittering views from the 46th-floor Eiffel Tower observation deck at Paris Hotel.
Where they watch 1,000+ Bellagio fountains dance in a choreography of water, lights, and music on the Strip.
Later, they wander in wonder inside the Bellagio, with its monumental Dale Chihuly glass sculpture Fiori di Como and magnificent Conservatory and Botanical Gardens.
Without doubt, the Bellagio fountains show and botanical gardens rank among the top free things to do in Las Vegas besides gamble.
The Reality
Las Vegas is also a real and remarkable place of really remarkable people.
It's where locals work, live, and go to school. Shop for groceries and raise their families.
Where they dream their dreams and go after their goals.
And where their dreams and goals nonetheless involve an inevitable and enviable amount of imagination and showmanship.
For in truth, they make the magic come alive, again and again, for first time visitors and regulars alike.
So come explore, experience, be inspired by Las Vegas like a local.
When you do, then you will discover both fantasy and reality have a fabulous only-in-Vegas flair.
•••
READ: Coffee in Vegas: Finding the Quiet Craft
READ: Route 66: Epic Road Trip Start to Finish
READ: Erie Canalway: Add This to Your Travel Bucket List
LEARN MORE: Las Vegas Convention and Visitors Authority
•••
All opinions expressed are Spotlight Sojourns' own. When you book or make a purchase through links, Spotlight Sojourns may earn a small commission at no cost to you.